Purpose Filled Team Building Opportunities with Ryan's Case for Smiles
Purpose Filled Team Building Opportunities with Ryan's Case for Smiles
Great teams have four things in common: • Clear mission • Shared goals • Commitment to success • Resilience in the face of adversity.  A team building event with Ryan's Case for Smiles provides your organization with an inspiring experience that brings your team together as they work to provide tools to help sick children and their families cope with cancer and other life-changing illnesses and injuries. In the end, your team will have shared a fulfilling experience of working together in service to these families while reinforcing coping skills that will serve them at work and in their homes. When a child is diagnosed with a life-changing illness or injury the whole family is impacted. Routines shift, jobs put on hold, and life is centered around caring for the child who is ill or injured. Left unaddressed, this can lead to moderate to severe symptoms of Post-Traumatic Stress (PTSD). Your custom team building experience with  Ryan's Case for Smiles will strengthen your team's sense of mission, purpose and success. Participants will hear inspiring stories of resilient children and families while learning coping strategies as they work together to build Coping Boxes and/or sew pillowcases.  Click here to view our team building brochure.
Building Coping Boxes
Build Coping Boxes Research shows that nearly 25% of siblings experience persistent traumatic stress reactions that impair daily functioning. Your team will build Coping Boxes filled with items that help reduce anxiety and promote positive coping. Each item is accompanied by a card that outlines how it helps them reduce anxiety, cope and build resilience.
Sew Pillowcases
Our staff will work with your team to sew pillowcases for children battling serious illnesses in area hospitals. The pillowcases your team creates provide the children with an emotional boost and remind them that they are not defined by their illness.  No sewing experiece required!
Or you can do both, build Coping Boxes and sew pillowcases!
*To cover the cost of materials, all corporate team building events require a financial commitment. 
Engagement opportunities with Ryan's Case for Smiles start at $2,500 for a two hour event.  Contact

Cindy Berlacher for more information or to request a tailored proposal for your team.  Link to team building base pricing

and

sample proposal

.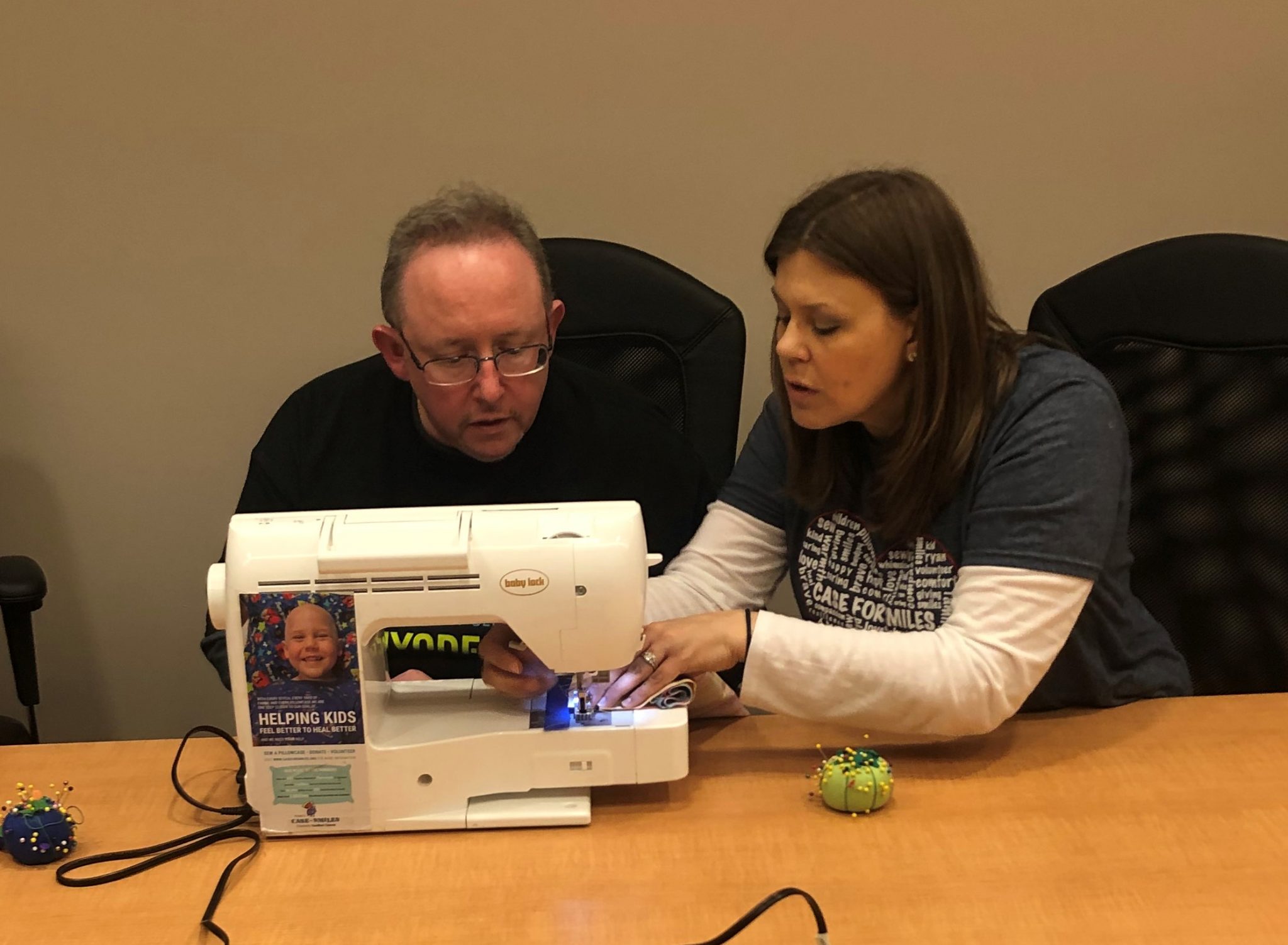 "Our team loved the opportunity

to both support Case for Smiles

families as well as grow as a

team,

laugh,

and develop our

sewing skills!"