HOSPITALS
Hasbro Children's Hospital
HopeHealth Hulitar Hospice Center, Providence
News & Events
Please consider supporting our chapter by donating your time to making some fabulous, kid-friendly pillowcases for the young patients at Hasbro Children's Hospital.  These youngsters are dealing with life-changing illnesses and the gift of a novelty pillowcase not only brightens their hospital room, but also, brings on a much needed smile!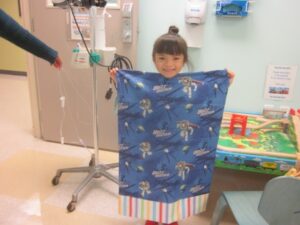 We gratefully accept any novelty fabric and/or monetary donations to help our chapter continue to supply Hasbro Children's young patients with the gift of a pillowcase.  Our aim: "Helping kids feel better to heal better!"
Please be in touch to see how you can support Ryan's Case for Smiles RI Chapter.