COORDINATOR
**Coordinator needed- we are looking for a dedicated volunteer to take over the chapter responsibilities.**  
For information, please email:
NEWS & EVENTS
Welcome to our Chapter. We hope you will join us in helping children feel better to heal better.
There are so many ways to get involved. Please join us for ANY or ALL of the opportunities below.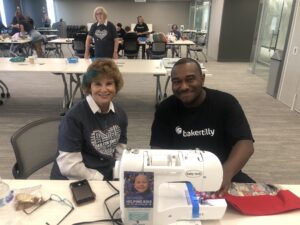 IN THE COMMUNITY: Our calendar is always changing with opportunities to help with Team Building, Corporate Outreach, School Events and Community Activities. We need sewers and non-sewers. Please join us at any of the events below by clicking the sign-up links below or by emailing Cindy.
UPCOMING EVENTS:
Who: Penn Medicine Radnor–POSTPONED!
What:  Sewing with the Employees
When: TO BE RESCHEDULED
Where: 250 King of Prussia Road, Wayne PA 19087
Sign up here.
We are thrilled to be returning to Penn Medicine Radnor in their beautiful new complex and will be sewing pillowcases with their team!
Who: Alpha Kappa Psi at St. Joseph's University
What:  Sewing Event
When: Wednesday, November 30th 7:00 pm – 9:00 pm
Where: Mandeville Hall in the Tellitorium, Address: 110N140009, Philadelphia, PA 19107
Time: 7:00 pm  – 9:00 pm (Depart at 5:30 pm for carpooling.)
Sign up here.
Who: Merk UG Office
What: Sewing Pillowcases
When: Monday, December 5th
Where: 351 N. Sumneytown Pike, North Wales, PA 19454
Time: 1:00 pm – 2:30 pm (set up 12-1) 
Sign up here.
This a great new opportunity to sew pillowcases with a team of 100 Merk associates. This location is 15 miles or 30 minutes from Gateway Shopping Center. We will carpool, departing from Gateway in Wayne at 11:30 am.
Who: Wanhua Chemical Family Holiday Event
What: Sewing Pillowcases
When: Wednesday, December 14th
Where: The Inn at Villanova – the Ballroom, 601 County Line Road, Radnor, PA 19087
Sign up here.
This is the Wanhua Chemical Family Holiday event where employees and their families will be filtering in to sew a pillowcase and create cards for the children we serve! It will be fun and festive.
We hope you can join us. Thank you!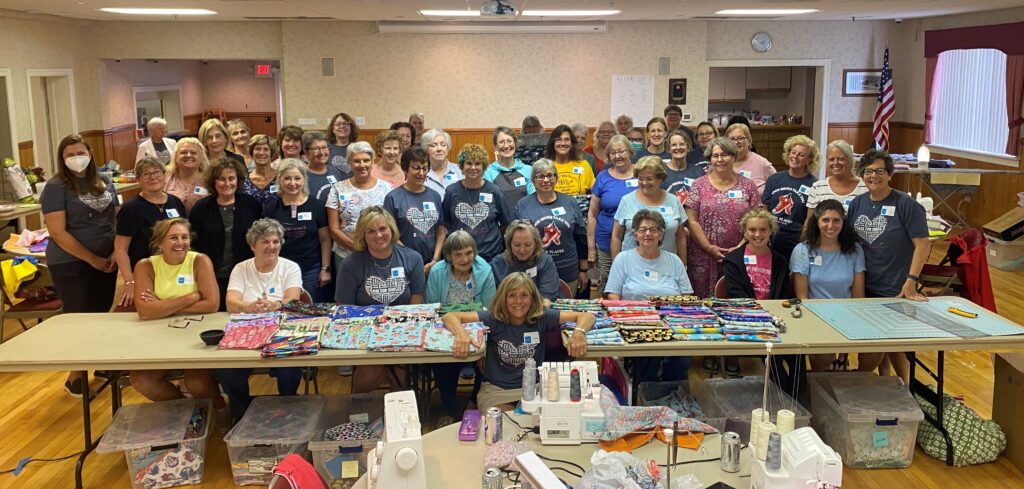 ALL IN A DAYS WORK!
With thanks and appreciation to so many generous people, our Philadelphia Chapter volunteers created 5,179 pillowcases in September! People, young and old, sewed at home and in groups of all sizes, to help spread awareness about Pediatric Cancer. Collectively, our organization created 46,257 pillowcases to deliver to hospitals across the country. Thank you to everyone who participated. Remarkable!
In West Chester, PA, we had great fun during a sewing event held at Goshen Fire Hall on September 11th. Take a look at the video below and consider hosting your own gathering or joining us next year.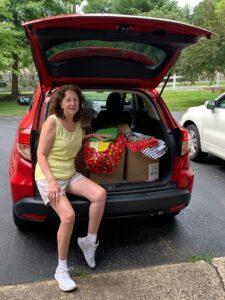 BEHIND THE SCENES & THINGS TO DO AT HOME: Our work is never finished and there is always room to help. Please reach out if you are able to assist with pillowcase laundering, packaging, sorting, fixing and fabric cutting. Occasionally, we need extra hands filling bobbins and checking sewing machines. If you have a little extra time, please email:  Dana@caseforsmiles.org to learn more. Thank you!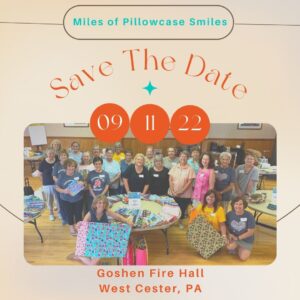 IN-PERSON SEW DAY, PLEASE JOIN US!  Sunday, September 11th from 9:30-3:30!
Miles of Pillowcases Smiles is celebrated the entire month of September. Help us reach out goal of sewing 55,000 pillowcases nationwide by sewing at home or joining us for an in-person sewing. On Sunday, September 11th, we will gather from 9:30-3:00 at Goshen Fire Hall in West Chester. It will be a fun day that includes pillowcase kits, prizes, lunch and some surprises. To register or learn more, please click here.
We are grateful to the Goshen Fire Company for donating their recreation hall. Thank you and hope to see you.