HOSPITALS
Children's Hospital – St. Paul
Children's Hospital – Minneapolis
Gillette Children's Specialty Healthcare – St. Paul
Maple Grove Hospital
Ronald McDonald House
Shriners Hospital
St. Luke's
St. Mary's Medical Center Duluth
University of Minnesota Masonic Children's Hospital
North Memorial Hospital, Robbinsdale
Hennepin County Medical Center
North Memorial Medical Center
NEWS & EVENTS
Welcome to our Chapter. We hope you will join us in helping children feel better to heal better.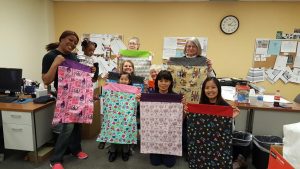 We had a great day sewing with the associates from the Apple Valley Kohl's location on February 19th.  Thank you for creating all those beautiful pillowcases!
One Million Smiles and Counting
On September 17, 2015, Case for Smiles volunteers delivered the ceremonial millionth pillowcase to a hospitalized child in each of its 120 chapters across North America. Each child received a specially designed pillowcase to celebrate our milestone. In addition, schools across the country declared it "National PJ Day," and celebrated in honor of the millionth milestone.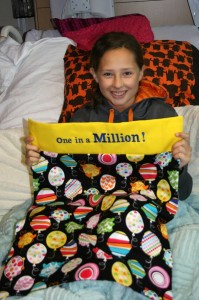 Click here to see more from the millionth pillowcase celebration.