Get Ready – We Need You! Miles of Pillowcase Smiles is here.
Miles of Pillowcase Smiles, our signature event each year; is held in September to coincide with National Childhood Cancer Awareness month. It is estimated that 15,780 children and adolescents will be diagnosed with cancer this year, nearly 50,000 will be receiving treatment and, sadly, 1,960 will die of the disease in the United States. Our goal for the month of September is to sew as many "MILES" of pillowcase smiles as possible. Last September with your help over 49,000 pillowcases or 23 miles (2,112 pillowcases equals one mile) of pillowcases were sewn! Let's do it again!!!
How to Help?
Donate Pillowcases 
Donate Fabric 
Not a Sewer?  Donate funds to help a local chapter in their efforts.
Share your support!  Be sure to tag us @CaseforSmile or submit a photo or story so we can post it.
All donations are tax deductible, are much appreciated and will be sewn into smiles. Make an online donation or mail a check payable to Ryan's Case for Smiles to 295 E. Swedesford Road, #396, Wayne, PA 19087.
We will need everyone's to help meet this challenge. Check out what events are planned in your community or sew up some pillowcases with your family and friends and find your local chapter.
Because of you children found comfort in the pillowcases they received and parents knew that they were not alone.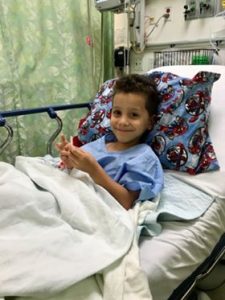 "Thank you so much for what you do! Seeing the smile on my son's face was priceless. We are home now and right away changedhis boring white pillowcase 🙂 for this awesome Spiderman one." -A grateful mom
THANK YOU!