Get Ready – We Need You!
Miles of Pillowcase Smiles is here.
Miles of Pillowcase Smiles, our signature event each year; is held in September to coincide with National Childhood Cancer Awareness month. Our mission has broadened to include ALL KIDS dealing with life-changing illnesses and injuries and we have set an aggressive goal for 2022. Each year, approximately 44,000 children are in cancer treatment across the country and there are many more children treated for other life-changing illnesses and injuries. With your help throughout September, we can reach our goal of making – 55,000 pillowcases or 26 miles (2,112 pillowcases equals one mile)  – striving to deliver to EVERY child facing adversity in the hospital. Please, won't you join us?
How can you help?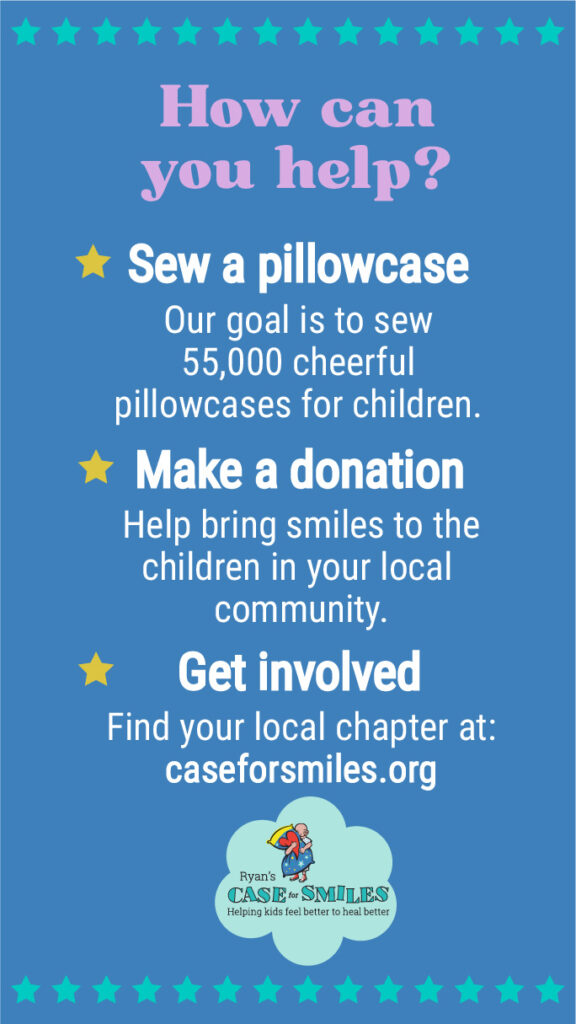 Donate Pillowcases 
Donate Fabric 
Not a Sewer?  Donate funds to help a local chapter in their efforts.
Share your support!  Be sure to tag us @CaseforSmile or submit a photo or story so we can post it.
All donations are tax deductible and greatly appreciated. Make an online donation or mail a check payable to Ryan's Case for Smiles to 295 E. Swedesford Road, #396, Wayne, PA 19087.
A Story from a Remarkable Volunteer
Getting involved is often best described by the dedicated and generous volunteers across the country. Click here to view the inspirational story of Judy K., a Wisconsin volunteer who recently completed her first mile of pillowcases — that is 2112 completed pillowcases for children in her local community.
We will need everyone's to help meet this challenge. Check out what events are planned in your community by reaching out to your local chapter. Or, consider sewing up some pillowcases with your family and friends in the comfort of your own home.
Because of your generous donations, children have found comfort in the pillowcases they received and parents have been reassured that they were not alone.
Progress towards our goal to create 55,000 pillowcases in September!