HOSPITALS
Golisano Chidren's Hospital of Southwest Florida
Ronald McDonald House in Fort Myers
Hope Hospice for Children
Naples Community Hospital
DROP OFF SITES
Kay's Quilt Shop

PJ's Quilt and Longarm Studio

Flash Sew and Quilt

Charlotte Sewing Studio

The White Daisy Quilt Shop
  hosted
 NEWS & EVENTS
Welcome to our Chapter. We hope you will join us in helping children feel better to heal better.  
There is a new web site which is a resource for teens whose sibling has a life-changing illness or injury.  It is JustSibs.org     It is an interactive, digital experience. 
        ****************************************************************
                    Thank you to all that helped on Saturday, May 14th
                         FLASH Sew and Quilt Shop hosted the event.                                                                 13240 Tamiami Trail # 205, Naples 34110                                                                      Phone 239-304-8387
   *********************************************************************
We accept standard size pillowcases made with 100% cotton fabric that is very colorful and whimsical. The kids keep any and all pillowcases they are given.  They like pillowcases with sports, action figures, cars, holiday themed, etc.  Our hospitals accept flannel pillowcases as well.  We have volunteers that will wash and pack the pillowcases individually for the kids.  (We require fragrance and dye free detergent.)
The Fort Myers Chapter covers all five counties in SW Florida:  Charlotte, Glades, Hendry, Lee and Collier.  Please contact us to learn more about how to get involved.
      We are always in need of donations.  They may be home made, colorful pillowcases, financial donations (donate via our web page or by check made out to  Ryan's Case for Smiles.  Please place Fort Myers Chapter in the memo line).  Other donations could be colorful, whimsical fabric that another volunteer will sew, or quart sized resealable bags,  or fragrance and dye free detergent.  Donations may be dropped off at any of our drop off sites.   THANK YOU!!!
           So far in 2022  our chapter had delivered 1071 pillowcases. 
Our chapter grand is 31,629  That is equals 15 miles!     It takes 2112 pillowcases, laid end to end to equal one mile.
       Since Ryan's Case for Smiles was organized in 2007, we have delivered well over  2,500,00  pillowcases worldwide!
        Recently our chapter was a recipient of a wonderful grant from KOHL's through their "Community with a Heart" Program.  MANY THANKS goes to KOHL's.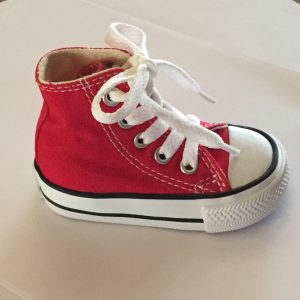 Someone asked us why the little boy in the logo is wearing red socks.  Actually they are red sneakers just like Ryan always liked to wear.