HOSPITALS
Johns Hopkins Children's Center
University of Maryland Children's Hospital
Mt. Washington Pediatric Hospital
Ronald McDonald House in Baltimore
Kennedy Krieger Institute
Gilchrist Center of Baltimore
Anne Arundel Medical Center
Greater Baltimore Medical Center
University of Maryland St. Joseph's Medical Center
Camp Sunrise/ Camp SunSibs
Abilities Adventure Camp
DROP OFF SITES
Bear's Paw Fabrics, Towson
The Crabby Quilter (formally, Cottonseed Glory), Annapolis
Ellicott City Sew-Vac
Jo-Ann Fabric & Craft Store, Bel Air
Material Girls Quilt Boutique, LaPlata
Snyder's Sewing Center, York PA
Spring Water Designs, Columbia
The Finishing Stitch, Dover PA
NEWS & EVENTS
Welcome to our Chapter. We hope you will join us in helping children feel better to heal better.
I am stepping down as the Chapter Coordinator at the end of this year or sooner if someone takes over the role.  I have volunteered with Ryan's Case for Smiles for 8 years, the last 6 years as the Chapter Coordinator and have thoroughly enjoyed the experience.  I am so incredibly grateful for all the volunteers who have shared their time and talent with our organization.  I have met so many wonderful dedicated volunteers, amazing compassionate health care workers, and remarkable and courageous children dealing with life altering illnesses.
If you are interested in learning more about the role of the Chapter Coordinator, or know anyone searching for a wonderful volunteer opportunity, please reach out to me at caseforsmilesbaltimore@gmail.com.  I am happy to share my experience with you and discuss the role of the Chapter Coordinator.
In 2022, the Baltimore Chapter delivered 3,781 pillowcases collectively to hospitals throughout Maryland.  This would not have been possible without the many amazing smile makers who share their time and talent with us.
If you want to sew a pillowcase, click here for directions.  For fabric requirements, click here.
VOLUNTEER SPOTLIGHT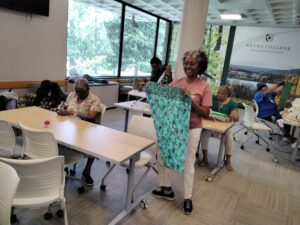 The ladies of the Kueka Ashram created 96 beautiful pillowcases during their recent retreat.  I am so grateful for their support and service.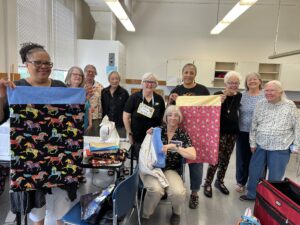 The ladies of the BYKOTA Senior Center Quilting Guild in Towson hosted a Pillowcase Sew In during their monthly meeting in June.  They created 20 pillowcases.  It is a fun, creative group who are committed to a variety of service projects.  I am so appreciative that they have chosen to support us.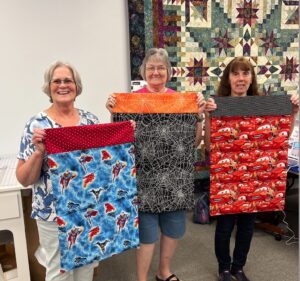 Thank you to Snyder's Sewing Center in York, PA for hosting a SMILES party.  This lovely group, with some participants not pictured, created over 50+ pillowcases. John and Anita, the owners, have hosted several SMILES parties over the years and I am so grateful for their support.  They also serve as a drop off location for those volunteers creating pillowcases at home.  I want to give a shout out to Holly who does  a lot of the behind the scene work to prepare for the party.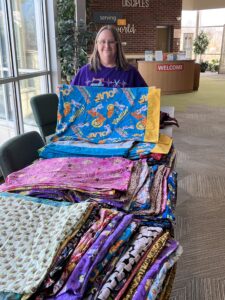 Thank you to Glen Mar United Methodist Church. They hosted a day of service in honor of Martin Luther King Jr.  Eloise Labram recruited over 100 volunteers, children to adults, to create over 120 pillowcases.  For many of the volunteers, it was their first time sewing.  Eloise and her team supervised the newbies to sew beautiful, fun pillowcases.  Thank you for instilling a love for serving and sewing!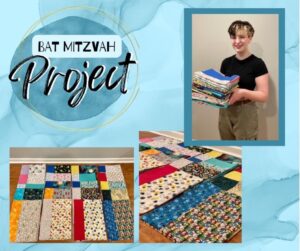 Thank you to Shayna who created adorable pillowcases as part of her Bat Mitzvah project.  She has a great eye for fun fabric and her sewing skills are awesome.  The time and effort that she put into this project is obvious!!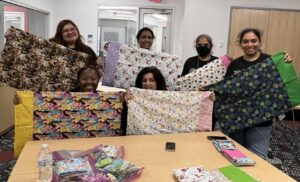 Kohl's Ellicott City
Thank you to the incredible volunteers from the Kohl's Store in Ellicott City (above), Eldersburg (below) and Timonium (not pictured).  They have hosted many fundraising events. The funds allow my chapter to purchase the fabric and supplies needed to sew with the children in the hospitals.  The Kohl's volunteers are fun, hardworking and committed to the Baltimore Chapter.  I am so grateful to the Kohl's Community with Heart program and the awesome employees who volunteer their time with us.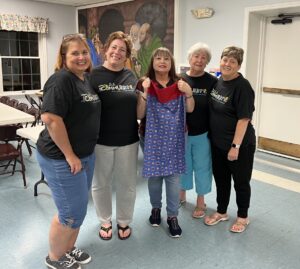 Kohl's Eldersburg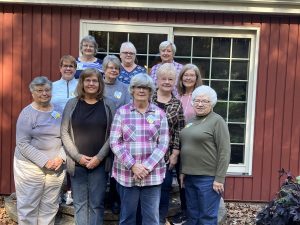 An awesome group of friends from Pennsylvania and Maryland get together a few times a year to sew pillowcases. In 2022 the group made 116 pillowcases!!  They really are inspiring!!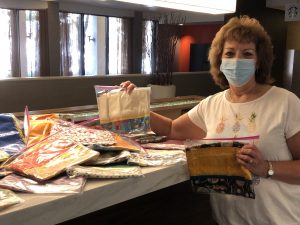 Kudos to the Oakland Maryland Chapter of Eastern Star for donating 63 adorable pillowcases.  Thank you to Liz and all of the wonderful volunteers for making smiles.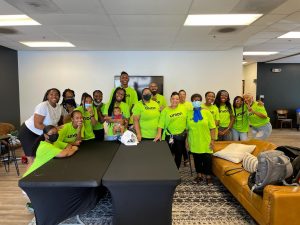 Union Church organized a Serve Day on July 10, 2021.  We were one of many organizations and community members that they served.  This impressive group of volunteers ironed and packaged over 350 pillowcases.  Many thanks to this hard working team of volunteers.  A special thank you to Elssa who reached out to me.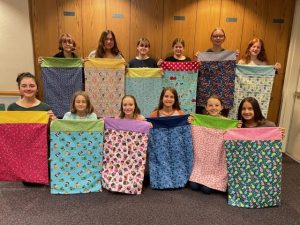 The Savage Mill Youth from The Church of Jesus Christ of Latter-day Saints created adorable pillowcases.  We are excited to see the next generation sewing and serving.  Thank you to all of the volunteers and the parents and mentors who shared their skills with this wonderful group.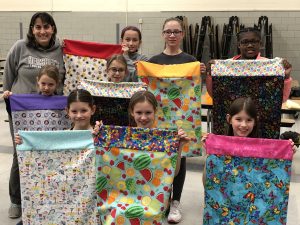 I had the pleasure to work with Girl Scout Troop 721, teaching them to sew pillowcases as part of their Bronze Award project.  The girls were focused and hardworking.  They learned quickly and created adorable pillowcases.  They are such a fun troop with an incredible leader.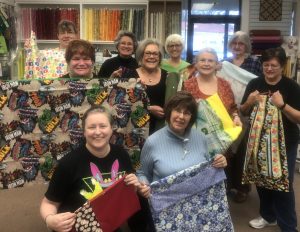 I want to thank Ellicott City Sew and Vac for hosting a Halloween Pillowcase Sewing Event.  The volunteers made over 350 pillowcases.  That is HUGE!  I want to give a special "shout out" to Caitlin who organized the event and Jan who generously donated much of the fabric.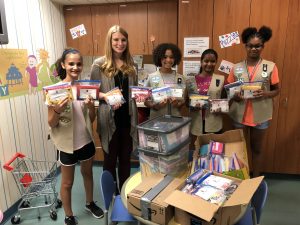 Girl Scout Troop 1667 from Clarksburg earned their Silver Award by sewing 207 pillowcases. They were able take their adorable pillowcases to Anne Arundel Medical Center and got a tour from the Child Life Specialist.  Great job to these 4 incredible Girl Scouts and their awesome leader!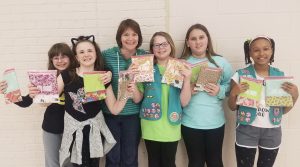 Girl Scout 753 from Perry Hall earned their Bronze award.  None of the girls had sewing experience but were very enthusiastic to learn.  Their finished pillowcases are beautiful.  They even raised money to donate to the chapter.  Impressive work from these ambitious Girl Scouts and their amazing leader!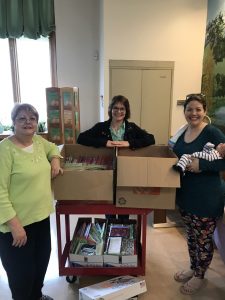 The AMAZING Smile Makers from the First Lutheran Church of Gray Manor presented the chapter with 505 pillowcases for 2022! I am grateful that they donate their time and talent to our organization.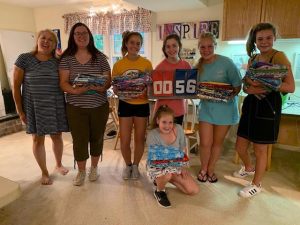 Thank you to Girl Scout Troop 81058 from Monrovia for making 56 pillowcases as part of their Silver Project.  A total of nine girls participated. I am so inspired by the hard work and commitment from the girls and their leader.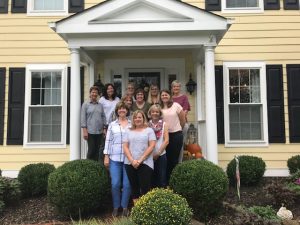 A wonderful group of neighbors and friends in Hunt Valley sew pillowcases once a month.  In 2019 they have made 379 pillowcases!
In September 2018, Cindy Kerr and Missy Lusk made a surprise visit to the Hunt Valley friends.  Cindy shared her inspiring story and then they got down to business and cut, pinned, sewed and processed pillowcases.  Of course there was a ton of laughter!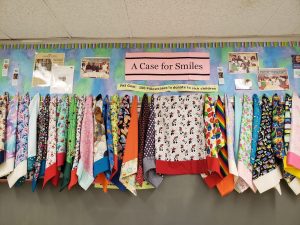 Parkdale High School's Family and Consumer Science students presented our chapter with 65 pillowcases in 2020. Even with virtual learning, the students found a way to sew.  I want to recognize their dedicated, amazing teacher, Susan Bistransin, who navigates them through the process.  THANK YOU PARKDALE HIGH SCHOOL!!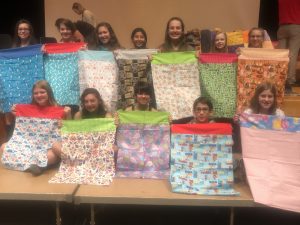 I want to send a HUGE shout out to Spring Grove Middle School. I recently received 128 pillowcases from them.  The pillowcases are colorful, fun and so well done.  I am truly in awe of their creativity and sewing ability.  I also want to thank their inspiring teachers, Lyn Greco.  WAY TO GO SPRING GROVE MIDDLE SCHOOL!  This donation is truly amazing since the 2019-2020 school year was impacted by COVID 19.
If you and your friends get together to sew pillowcases, please let me know.  I'd love to spotlight you too!
50 Dig It  themed pillowcases were delivered to Camp SunSibs.  Enjoy!
100 Retro themed pillowcases were delivered to Camp SunRise.  Have fun!
To learn more about Camp Sunrise please click https://www.campsunrisemd.org
Thank you to all of our wonderful Smile Makers, both individuals and groups, who make this and every delivery possible!  The pillowcases are special to the children and they cherish them long after they are discharged from the hospital. I would like to thank the following companies/organizations who have donated to the Baltimore Chapter: ALDI, Ellicott City Sew-Vac, Giant in Hunt Valley, Kohl's Cares, Material Girls Quilt Shop, Target in Cockeysville, Wegmans in Hunt Valley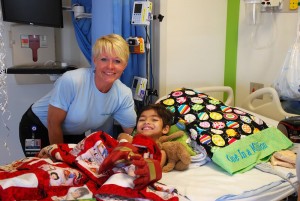 One Million Smiles and Counting
On September 17, 2015, Case for Smiles volunteers delivered the ceremonial millionth pillowcase to a hospitalized child in each of its 120 chapters across North America. Each child received a specially designed pillowcase to celebrate our milestone. In addition, schools across the country declared it "National PJ Day," and celebrated in honor of the millionth milestone.
Click here to see more from the millionth pillowcase celebration.