COORDINATORS
Linda Armour and Maggie Katz
HOSPITALS
Ronald McDonald House of Albany
Albany Stratton VA Medical Center
Albany Medical Center Children's Hospital
Double H Ranch, Lake Luzerne
Camp Erin – Albany Community Hospice Bereavement
NEWS & EVENTS
Welcome to our Chapter. We hope you will join us in helping children feel better to heal better.
**In order to keep everyone safe – ESPECIALLY THE KIDS AND FAMILIES WE LOVE AND SERVE –  we are postponing all events scheduled through the end of March due to the Covid-19 outbreak. We will evaluate the conditions again on 3/31/20.**
Spring will be here in a few weeks.  Meteorological spring is already here!  Either way, you know we are enjoying more sunshine and  more daylight.  With that comes our round of spring pillowcase parties.  Please read on.  
We are grateful to those who responded to our financial need for making pillowcases.  We received substantial monetary donations from individuals, quilt guilds, and matching corporate donors.  We're still looking for regular corporate sponsorship.  If you know of a corporation or business looking for a team building partner, send them our way, or send us their contact info. 
We need you at our pillowcase parties.  We deliver over 200 pillowcases a month.  We rely on our spring and fall pillowcase parties to replenish our stash.  Below are your opportunities to join us.  BYO sewing machine, lunch, beverage, and a buddy. 
Upcoming Events:
Friday, March 13,  11-4, Bloom Quilts,  Margaretville – **POSTPONED**
Friday, March 27, 10-2, Grace Church, Lake Katrine/Kingston – **POSTPONED**
Saturday, March 28, 10-4, At At Home Quilting, Johnstown   **Drop-off only.  We will not be sewing.  **NOTE NEW LOCATION:  212 Stoner Trail Rd, Johnstown – **POSTPONED**
Monday, April 6, 10:30-2:30, Saugerties Public Library  – **POSTPONED**
Friday, May 1, 10:30-1:30, Rotterdam Branch Library, Rotterdam/Schenectady
TBA, Quilt Bug, Guilderland

Ms Tarello's 7th grade students at Oliver Winch Middle School in South Glens Falls are having a great time making pillowcases for the Albany Chapter.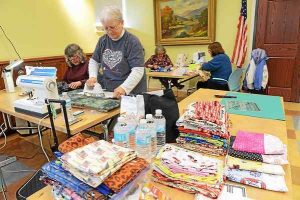 We had so much fun sewing recently at Saugerties Library. Check out the photos and article from the Daily Freeman News here.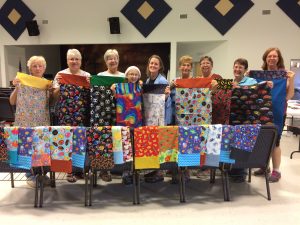 Annual September pillowcase party at the Duanesburg Reformed Presbyterian Church.  10 volunteers, 5 hours, 1 great lunch = 70 pillowcases.  Fun was had by all.