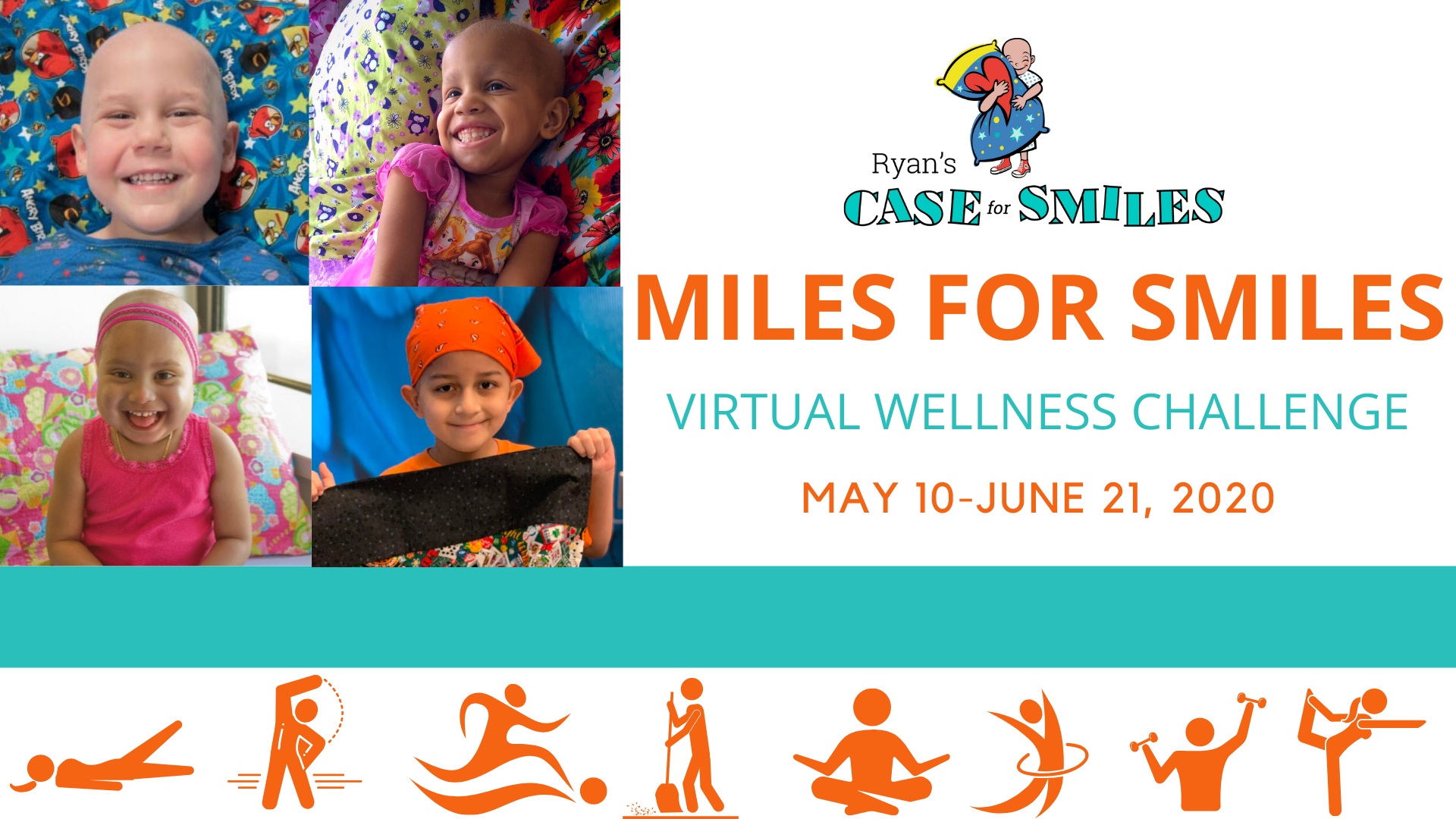 Miles for Smiles Virtual Wellness Challenge
At a time when so many are isolated and adapting to the challenges of COVID-19, we want to share our mission of building resiliency and hope as we strengthen community, forge new connections, and most importantly, bring SMILES to the thousands of children and families we serve who inspire us with their courage in the face of cancer and other life-changing illnesses.
While so many of us are separated from the ones we love most, our Wellness Challenge is the perfect opportunity to connect with friends, families, colleagues, and neighbors in a fun and easy challenge to practice self-care and promote your personal wellness.
Whether you are a runner, walker, biker, yogi, amateur chef, or master sewer, all are encouraged to join in the fun. The only "rule" is to select activities that bring you joy and relaxation.
Challenge runs for 6 weeks!
From Mother's Day, May 10th thru Father's, Day June 21st.
Join in at anytime throughout the 6 week period.
Registration options:
$30 Individual Entry (adults 18 and over)
$20 Youth Entry (AGES 13-17)* 
$70 Wellness Champion Fee ALSO Includes:
Name Listed as Wellness Champion
$40 Additional Donation to Case for Smiles
Proceeds from registration go to Ryan's Case for Smiles
*Unique email address is required in order to track miles individually (ie, a parent or caregiver cannot use their same email address to set up a child's account if they are already signed up with that address). If your child is younger than 12 or does not have an email address we recommend including their activity along with parent/caregiver.
Miles for Smiles Virtual Wellness Challenge
I don't want to participate but would love to DONATE to CASE for SMILES Miles for Smiles Virtual Wellness Challenge

*The winner of the Coach handbag will be randomly selected at 4 p.m. EST on Thursday May 14, 2020 or any other substitute date and time selected by Ryan's Case for Smiles. Any and all names of winners will be posted on our Facebook Page!
Rules/Disclaimer: This promotion and drawing is open to those 18 years of age and older residing in the United States only. Void where prohibited by law or otherwise. This promotion is in no way associated with, administered by, or endorsed or sponsored by, Facebook and all participants and entrants (i) agree to the posting and release of their name and identity if they win, and (ii) acknowledge by their participation a full and complete waiver and release (of all claims, damages and other costs and expenses whatsoever) of Facebook and Ryan's Case for Smiles and each of their affiliates, members, partners, owners, principals, associates, executives, board members, employees and agents. No warranty is implied or expressly provided in any manner whatsoever. All winners are randomly selected and no entrant has any better chance to win than any other entrant.