This #GivingTuesday…

Ryan's Case for Smiles is celebrating 15 years of helping kids to feel better to heal better!  #TogetherWeCanDoMore
No act of kindness is too small. The gift of kindness may start as a small ripple that over time can turn into a tidal wave affecting the lives of many."- Kevin Heath
When Cindy Kerr, our founder created the first pillowcase for Ryan, a hamburger themed one, she could not imagine it would spark a movement that would inspire thousands of volunteers and donors to get involved. Please join the celebration and help to honor our 15 years as an organization by making a donation to Ryan's Case for Smiles this Giving Tuesday.  We are THANKFUL FOR each and every one of our supporters who have given so generously of their time, talent and treasure to help provide comfort and support to children with cancer and other life-changing illnesses and injuries. If you are new to our mission, we hope that you will consider being a part of the 'tidal wave' of support!  To our loyal donors thank you for "riding" the wave!
Expansion of our programs.  Cindy saw a need beyond the hospital stay to help families cope with the stress and anguish associated with having a child who is critically ill. This need grew into the idea of creating post-medical traumatic stress focused resources for families, which include CopingSpace and JustSibs.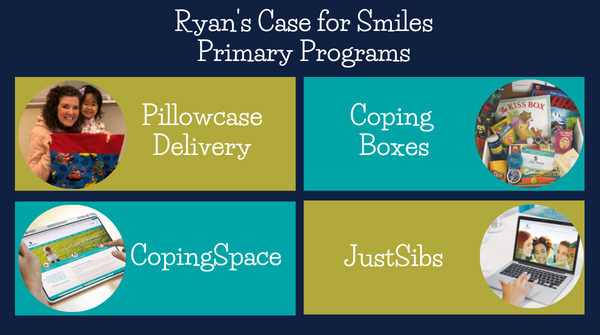 Take the #GivingSmiles Challenge and pass it on!
With your help, we can bring smiles to children at a time when they need it the most!
$50 Provides one pillowcase to a child for 4 hospital admissions.

$100 Funds two Coping Boxes for siblings, helping to teach them positive coping skills.

$200 Provides pillowcases for 17 admissions for a child in treatment, as well as research informed resources to help their parent build resilience for themselves, their child, and his or her siblings.

$500 Funds 10 Coping Boxes for siblings, helping them to teach positive coping techniques. 

Other- all donations are meaningful!
Highlights of our Journey:
In the past 15 years, we have delivered over 2,500,000 pillowcases!
You might not know that about 30% of our pillowcases come to us already crafted by generous volunteers. To meet the remaining 70%, we rely on financial donations to purchase fabric.  Our dedicated volunteers in our chapters then cut, sew and wash the pillowcases so they are ready for delivery to local hospitals to help children feel better to heal better!