HOSPITALS
• Children's Hospital
• St. Mary's Health Center
• Audrain Medical Center
• Ronald McDonald House
• Moberly Regional Medical Center
• Hannibal Regional Hospital
• Northeast Regional Medical Center
• U of M Pediatric Psych Center
• Rusk Rehab Center
• Bothwell Regional Medical Center
• Children's Haven
• Foster Home Care of MO
DROP OFF SITES
• Rooster Creek
• Appletree Quilting Center
• Specialty Quilts
• Satin Stitches
• Quilt 4 U
NEWS & EVENTS
Welcome to our Chapter. We hope you will join us in helping children feel better to heal better.
Upcoming Events
July 26-27
Case for Smiles will be the "hands on project" for Mission University @ Central Methodist College in Fayette. Those machines & sergers will be humming for 2 days!
Sept.11
Millersburg Christian Church " 3rd All Day Sewing Event". Lunch will be provided.
Sept. 16 & Oct. 21
"Give Back Sewing Day" at Appletree Quilting in Columbia. Drop in to help sew a smile!
News
Congrats to the ladies at "Quilt 4 U" who sewed tirelessly during the month of March to make 1968 pillowcases for the "Million Pillowcase Challenge." They took 2nd place in the nation for number of cases sewn! Included in their generous donations to non-profit organizations, was our Mid-MO Chapter of CFS, which received 150 bright smiles! Many thanks to all of you!
"Happy Faces Made Happy Cases" at a Kohl's sewing Event on April 25, 2019. Even after a full day of work, these ladies gave up their evening to help sew, iron and bag 121 pillowcases at "Hobby Lobby." The catered lunches provided by Panera Bread helped too! Thanks everyone!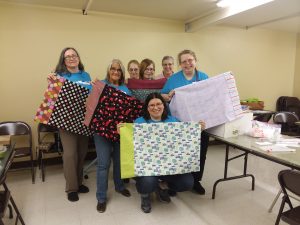 Our chapter held our 8th annual Pillowcase Workshop in April at the 1st Presbyterian Church in Fulton, MO.  We made 258 pillowcase smiles!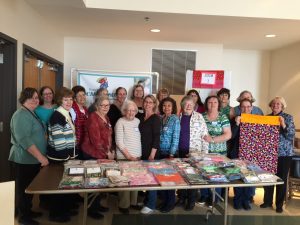 Our chapter held a workshop with the American Legion Auxiliary on June 4, 2019. 81 "smiles" were sewn that day!