HOSPITALS
• Children's Hospital
• St. Mary's Health Center
• Audrain Medical Center
• Ronald McDonald House
• Moberly Regional Medical Center
• Hannibal Regional Hospital
• Northeast Regional Medical Center
• U of M Pediatric Psych Center
• Rusk Rehab Center
• Bothwell Regional Medical Center
• Children's Haven
• Foster Home Care of MO
DROP OFF SITES
• Rooster Creek
• Appletree Quilting Center
• Specialty Quilts
• Satin Stitches
NEWS & EVENTS
Welcome to our Chapter. We hope you will join us in helping children feel better to heal better.
Upcoming Events
July 11-13
Come see us at the "Rooster Creek Quilt Show" in Holt's Summit, MO, at the Union Hill Baptist Church.
Hours: Thursday & Friday 9-6, Sat. 9-3.
July 26-27
Case for Smiles will be the "hands on project" for Mission University @ Central Methodist College in Fayette. Those machines & sergers will be humming for 2 days!
News
Our chapter held our 8th annual Pillowcase Workshop in April at the 1st Presbyterian Church in Fulton, MO.  We made 258 pillowcase smiles!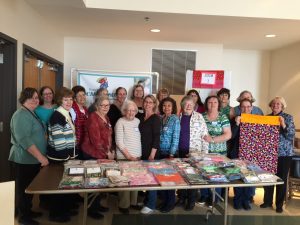 Our chapter held a workshop with the American Legion Auxiliary on June 4, 2019. 81 "smiles" were sewn that day!