COORDINATORS
Linda Armour and Maggie Katz
HOSPITALS
Ronald McDonald House of Albany
Albany Stratton VA Medical Center
Albany Medical Center Children's Hospital
Double H Ranch, Lake Luzerne
Camp Erin – Albany Community Hospice Bereavement
NEWS & EVENTS
Welcome to our Chapter. We hope you will join us in helping children feel better to heal better.
Upcoming Events:
Early Spring Greetings to all our pillowcase volunteers!  Three sure signs of spring are crocuses popping out of the ground, robins dotting fields and yards, and pillowcase parties!
We can't control the first two, but the third is our specialty.  Below is the list of pillowcase parties we've scheduled so far.  All events are 10 am – 2 pm unless otherwise noted.
 
Fri May 24, 10:30 – 2:30, Quilt Bug Quilt Shop, 3637 Carman Rd, Schenectady. Call to Reserve – Space is Limited 888 817 6577
Bring your sewing machine, lunch, and a buddy.  As always we provide the pillowcase kits and chocolate.  If you have any fabric or completed pillowcases you'd like to donate, we'll gladly accept them at the events.
Drop us an email with any questions.  We look forward to seeing you at one or more of our events!
Previous Events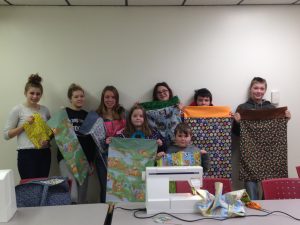 Thanks to the Wild 'N Wooly 4H Club in Delaware County for their beautiful pillowcases.

Ms Tarello's 7th grade students at Oliver Winch Middle School in South Glens Falls are having a great time making pillowcases for the Albany Chapter.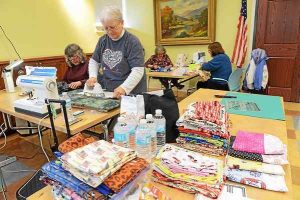 We had so much fun sewing recently at Saugerties Library. Check out the photos and article from the Daily Freeman News here.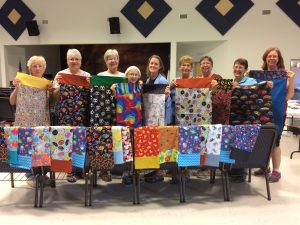 Annual September pillowcase party at the Duanesburg Reformed Presbyterian Church.  10 volunteers, 5 hours, 1 great lunch = 70 pillowcases.  Fun was had by all.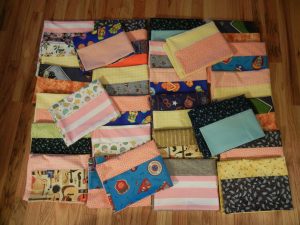 Thanks to Ms Shafran, her Rondout High School life skills students, and staff for the wonderful pillowcases they made recently.  Lots of smiles for lots of kids.
Thank you to the members of the Wiltwyck Quilters' Guild and Kingston Kohl's Associates who came together at Grace Church in Lake Katrine to create pillowcases!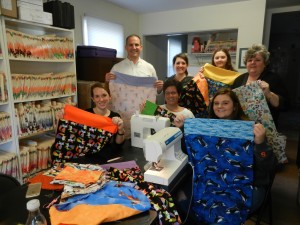 Thanks to DeSanti Family Dentistry, dentists and staff, who hosted a fun and productive pillowcase event!