COORDINATORS
Linda Armour and Maggie Katz
Please note the new email address.  conkerrcanceralbany@gmail.com will be active for a few months and then it will be retired.
HOSPITALS
Ronald McDonald House of Albany
Albany Stratton VA Medical Center
Sunnyview Rehabilitation Hospital Schenectady
Albany Medical Center Children's Hospital
St. Margaret's Center Albany
NEWS & EVENTS
Welcome to our Chapter. We hope you will join us in helping children feel better to heal better.
Upcoming Events:
Bring your machine and thread, thread snips or scissors, lunch, beverage, and a friend.  If you can rsvp that would be great, but we'd still love to see you even if you don't!  We hope to hear from you and see you soon!
If you know of a group who would like to host an event, let us know.  
Friday, Nov. 9, 11:30 – 2:30 pm, Main Lounge in Events and Athletic Center, St Rose College, 420 Western Ave, Albany

Wednesday, Nov 14, 5:30-8, Joyful Quilter, 19 Glenridge Rd, Glenville.  Reservations not necessary, but appreciated.

 

Friday, Nov. 30, 10-2 pm

, Quilt Bug, 3637 Carman Rd, Schenectady (RSVP please as space is limited)

 

Ms Tarello's 7th grade students at Oliver Winch Middle School in South Glens Falls are having a great time making pillowcases for the Albany Chapter.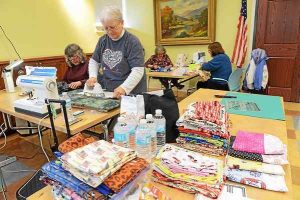 We had so much fun sewing recently at Saugerties Library. Check out the photos and article from the Daily Freeman News here.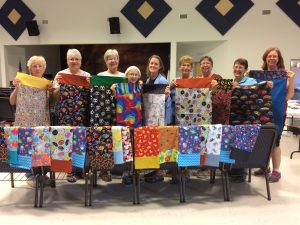 Annual September pillowcase party at the Duanesburg Reformed Presbyterian Church.  10 volunteers, 5 hours, 1 great lunch = 70 pillowcases.  Fun was had by all.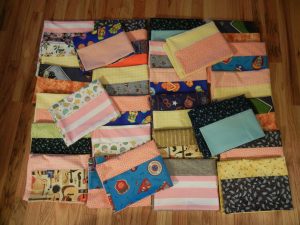 Thanks to Ms Shafran, her Rondout High School life skills students, and staff for the wonderful pillowcases they made recently.  Lots of smiles for lots of kids.
Thank you to the members of the Wiltwyck Quilters' Guild and Kingston Kohl's Associates who came together at Grace Church in Lake Katrine to create pillowcases!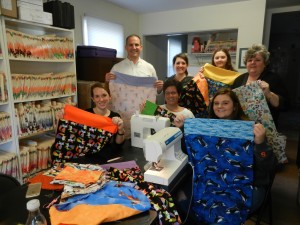 Thanks to DeSanti Family Dentistry, dentists and staff, who hosted a fun and productive pillowcase event!